All of my cake servings are the same for celebratory & wedding cakes.
Cake is cake! 1" x 2" slices.
I bake my cakes from scratch. All cake is made to order.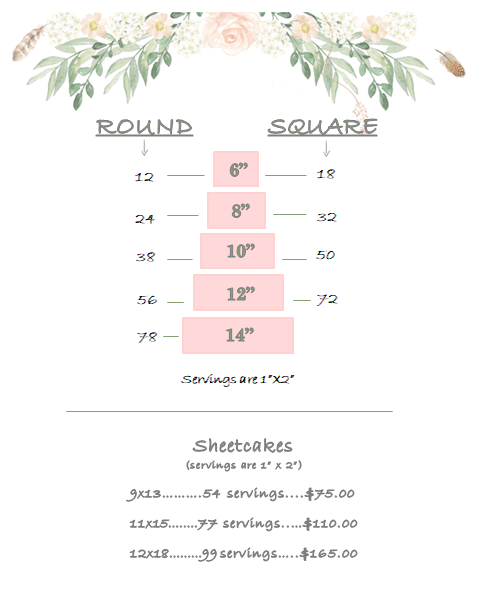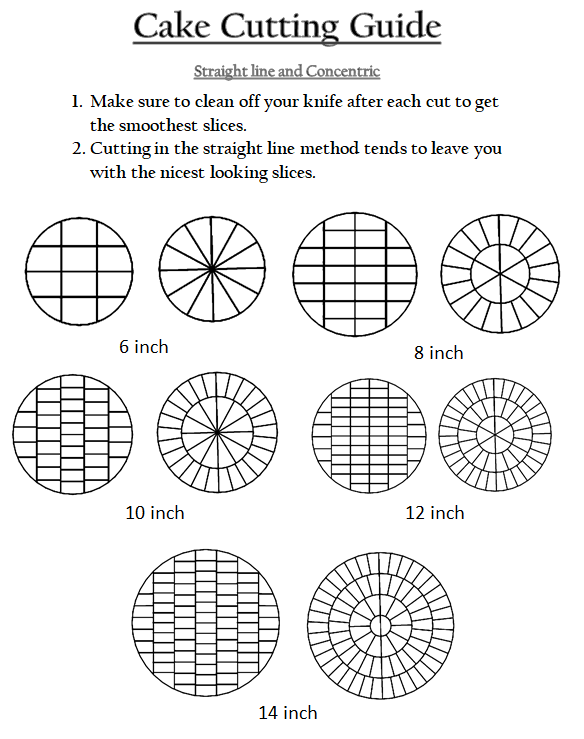 PRICING
Cakes start at $3.50 per serving and increase from there depending on details and the level of difficulty.
What do you get for $3.50/serving??? This includes a basic buttercream cake with your choice of cake and basic filling! Most of my cakes are more than 4 inches high and include 3 layers of cake with 2 layers of filling! Sheet cakes are 2 layers of cake with 1 layer of filling!
Any cake over 2 tiers add $0.25 per serving.
Last minute orders may be charged a "rush" fee.
Fondant cake toppers $5-$25 each
Missing something? Please inquire as I am open to trying new recipes and designs!
To price your cake please use the following formula: (please note that this is only an estimate for your purposes and that the final cost may be different)
CAKE SERVINGS X COST PER SERVING + ADD ONS (FLOWERS, TOPPERS, ETC.)
(ie: 8" cake, 24 servings X $3.50/serving = $84.00)
Custom cakes take more time and are so personalized that it's almost impossible to have a set pricing structure. Please inquire about any add-ons! 
I put a lot of love and time into every order that I take. I pay attention to every little detail and I only take a limited amount of orders each week. I use the freshest ingredients that I can get my hands on!
I want to make your vision become a reality. Custom cakes are a great centerpiece to any event! Please send me pictures or any other inspiration that you have! Let's discuss your perfect cake!